It's a common misconception that you can't eat a lot of vegetables while on a keto diet. In fact, you can and should eat plenty of vegetables! They contain all kinds of nutritious stuff, including antioxidants, vitamins, and minerals like potassium, and calcium. But not just any vegetables will do. Some are high-carb foods with high-sugar / natural sweeteners / glucose (Hint: most root vegetables, like carrots, beets, yams, butternut squash, parsnips and turnips are starchy vegetables and have high carb counts). Avoid those veggies and focus your sights on ketogenic diet-friendly selections listed below. Some are superfoods (say yes to leafy greens and cruciferous vegetables!), all are good for a low-carb diet, have little glucose, and are non-starchy vegetables. Just remember, even with nutritionally beneficial vegetables, carbohydrates add up fast; you want to stick to about 20 grams of net carbs per day (more if you're regularly athletic or can stay in ketosis with more carbs–you can test to figure that out–and less total carbs if you're using the keto diet as adjunct therapy), so mind your macros while enjoying vegetables.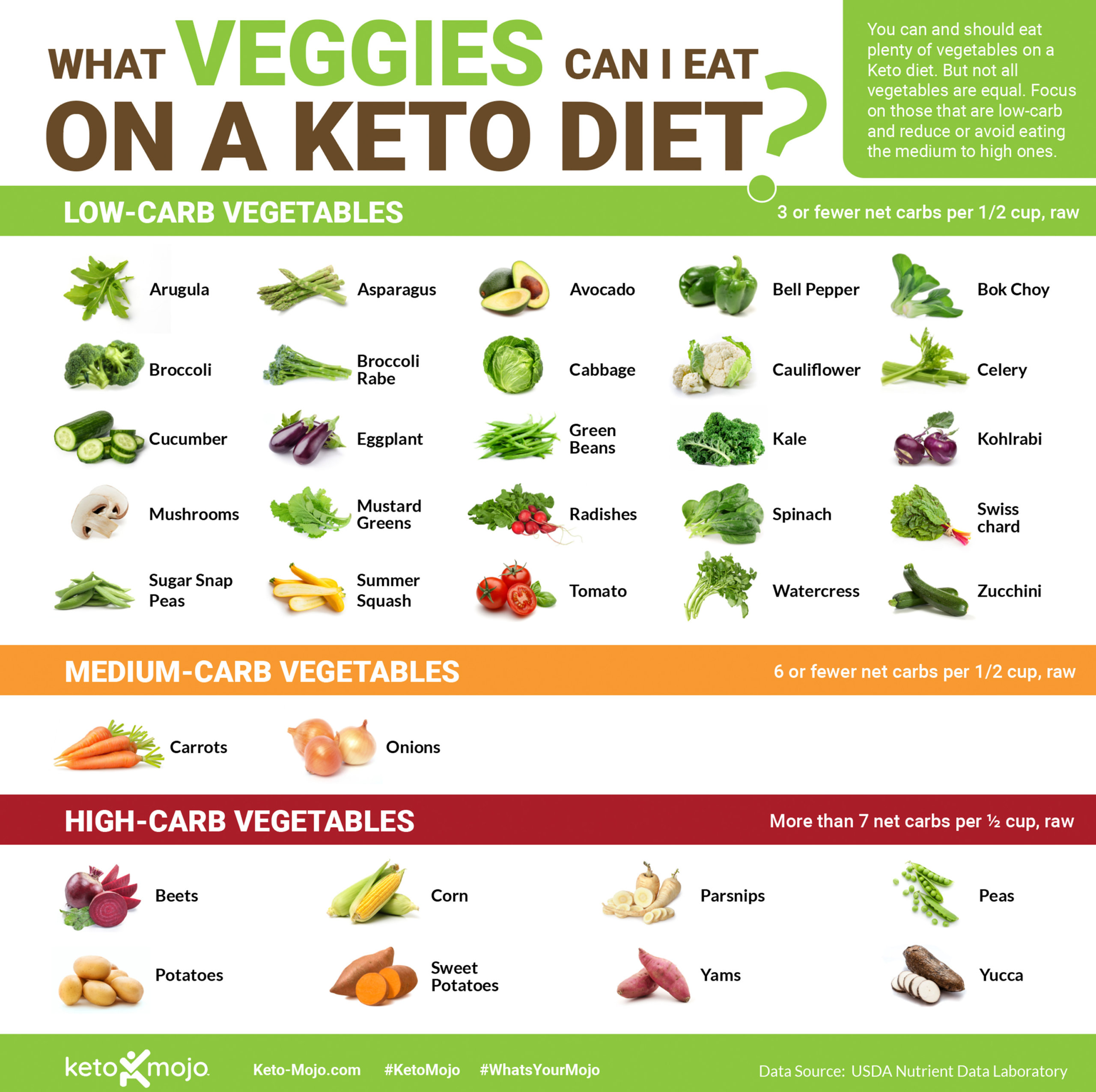 Low-Carb Vegetables (3 or less net carbs per 1/2 cup, raw)
Arugula
Artichokes
Asparagus
Avocado (technically a fruit ..:-)
Bell pepper
Bok choy
Broccoli
Broccoli rabe
Brussels sprouts
Cabbage
Cauliflower 
Celery
Cucumber
Eggplant
Green beans
Kale
Kohlrabi
Mushrooms
Mustard greens
Radish
Spinach 
Swiss chard
Sugar snap peas
Summer squash
Tomato
Watercress
Zucchini
Higher-Carb Vegetables (6 or less net carbs per 1/2 cup, raw)
Highest Carb Vegetables (more than 7 net carbs per ½ cup, raw)
Beets
Corn
Legumes
Parsnips
Peas
Potatoes
Sweet potatoes
Yams
Yucca
Mojo On!
Not too savvy on how to cook vegetables? Now's a great time to learn how to integrate them into your keto recipes! You can steam them, then finish them with butter and spices, or toss in coconut oil and spices and roast them, or even cut them up and serve them as a salad with your favorite keto-friendly high-fat dressing or a simple mix of olive oil, vinegar, Dijon mustard, and salt and pepper. Sautéed works too as does a stir-fry, especially when cooked in healthy fats (think good oils or butter)! You can get started on your newfound enjoyment of vegetables anytime by sprinkling some salt or a little keto-friendly vinaigrette on ripe avocado slices. It's pure, simple pleasure! 
If you're craving effortless solutions, head to the grocer's frozen food section for two keto lifesavers: cauliflower rice and zucchini "zoodles." Cauliflower rice is nothing more than tiny bits of cauliflower, packaged and ready for you to use in place of rice (you can make your own by fine-chopping cauliflower florets). It cooks quickly, is mildly flavored, and very low carb. Meanwhile, zoodles, or spiralized zucchini, is the perfect replacement for pasta. Buy it readymade in stores or invest in a spiralizer (from $15 to $30 on Amazon.com) to make your own. Microwave for about 30 seconds to warm, then top with cream sauce or meat sauce, it's awesome and satisfying. You'll be amazed at how these two stylized vegetables alone can bring diversity to your keto meals!
Whatever you do, remember that vegetables are great keto food, if you choose the right ones and eat just enough on your keto meal plan to keep your carb content in check. Opt for the best keto-friendly vegetables and you can keep your blood sugar low, stay in ketosis, continue weight-loss (if that's your goal), and enjoy their myriad health benefits; the fiber and nutrients in keto-friendly vegetables are great for heart health and overall wellness, and they taste delicious, too!
Remember: when starting any new diet, always check with your primary care physician or a dietitian.